If candidates can't quickly and easily find your jobs, they can't apply for them.
Job search is the most important and visited tool on any career site. This is often the first experience your candidates have with your organization. RightJobNow offers a fast and informative set of job searches that deliver richly detailed and informative job pages.
90% of your career site visitors go immediately to your job search.
– HealthComm 15-year client study
But too often your ATS provides a less than candidate-friendly search experience. Its focus is on the application and the applicant process, NOT the job search. Poorly programmed keyword searches, confusing, multiple-choice dropdowns and filters, paginated jobs that leave job seekers frustrated, back browsing, and restating searches again and again.
Candidates come to you to look for career opportunities. Don't let them leave because they can't find one.
RightJobNow Search integrates seamlessly with your ATS. Our unique and unparalleled programming takes and arranges your job data into three easy-to-use and phenomenally fast job searches. Healthcare job seekers are specific in their needs and searches. They're looking for a job that matches their specific set of clinical skills in a place they want to work.
RightJobNow provides an experience that doesn't waste a moment of their time searching, delivering the jobs they're looking for immediately.
Want to see how incredible your jobs and facility could look to candidates?
Just click the button to see our demo. No appointment or phone call required.
Once you see the demo, you're going to want RightJobNow for your organization.
A Search to Suit Every Candidate's Needs
With RightJobNow Search, candidates can search for any of your jobs on any device they like – phone, tablet or desktop. And by any of your jobs, we mean all of your jobs. Every. Single. One.
Candidates enjoy three types of search to make finding your jobs easy – by region and job class, by map search, and by keyword. We even toss in a fourth – by Job ID – for recruiters and your "in-the-know" candidates.
The unique search functions of RightJobNow Search were developed from more than a decade and a half of actual use, research, and testing refined to deliver exactly what a candidate expects from a job search.
It's a precision tool that outperforms and out-delivers on every level to give more of your jobs the exposure they need.
1. Search by Region and Job Class
Candidates know what job they want and where they want to work. And history shows this is the first feature they go to in RightJobNow Search.
This power search is optimized so no time is wasted showing job types with zero openings. Candidates cut through the clutter to see only job classes with availability, because the numbers are right there. Select a region, see what's available at a glance. Before ever clicking search.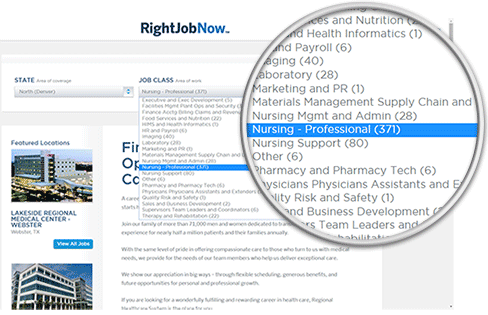 A second favorite. Map search cuts to the chase and shows candidates exactly where the jobs are. Pick a job type. Find out where those jobs are available in a beautiful map display. It doesn't get any simpler.
Your job board standard. RightJobNow Search provides keyword search for the classic job seeker. We can't promise they'll use it, because when all three are offered this is the least chosen. But it's there if they need it.
Plus candidates can switch search type on the fly without having to start the entire process over, so they find exactly what they want, when they want, quickly, and easily.
Refined Results for Better Candidate Matching
RightJobNow Search makes it easy for candidates to match jobs to their interest with built-in refinement filters.
Sort jobs by organization or business lines, work type, scheduling, whatever parameters your company defines.
Filters are customized to meet the requirements of your business model and the breadth of your jobs. So, if someone wants to work three Saturdays in September and you provide that, there's a filter. If they want to work on the dark side of the moon and you have a facility there, there's a filter.
Whatever it takes to put the job in front of the candidate.
Search Results that Don't Waste Your Time
It all comes down to finding your jobs with ease.
But your decade-old ATS still paginates results. Displaying your most recent postings on page one and pushing unfilled positions to the back of the line. In page after page of results.
Candidates don't want to sift through all of that. They want results that are readily accessible.
With RightJobNow Search, load times are fast. Results are instantaneous. And we don't paginate results. Whether on the phone, tablet, or desktop, your jobs are right there in the open.
Candidates can quickly and easily scroll through all of your available jobs without having to page through anything.
Robust Location Branding in Every Job Description
Whether you are a small company or large enterprise, you've got a culture that appeals to candidates. And if you have multiple locations, the broader culture is uniquely defined by each.
RightJobNow Search provides insight into the culture of each location within your organization by adding a link to a branded page in every job description.
Detailed location pages provide map links to show exactly where you are, contact information, links to your main site and any social networks supported. And detailed copy that lets the candidate know who you are and what your culture is all about.
Your Jobs Available at Every Vantage Point
You want job seekers to be able to easily find your jobs no matter where they are on your career site.
The RightJobNow 'Search Anywhere' feature puts your jobs at their fingetips so your jobs are always accessible at any point in a candidate's search.
RightJobNow is a Job Search Powerhouse
Make your entire job search process extraordinary for candidates.